String, mouliné, ribbon, paper, vegetables, spices and stickers are all things we can use to make Easter eggs. A visit to the store will not be necessary.
What are Easter eggs?
Easter eggs, i.e. eggs decorated with various techniques, are an inseparable element of Easter holidays. They symbolize nature coming to life and hope resulting from faith in the resurrection of Christ.
The custom of painting eggs was already known at the time of the Roman Empire, and came to Poland at the end of the 10th century. Patterns were drawn with melted wax, and then put into the decoction of onion skins or ochre, which naturally colored them.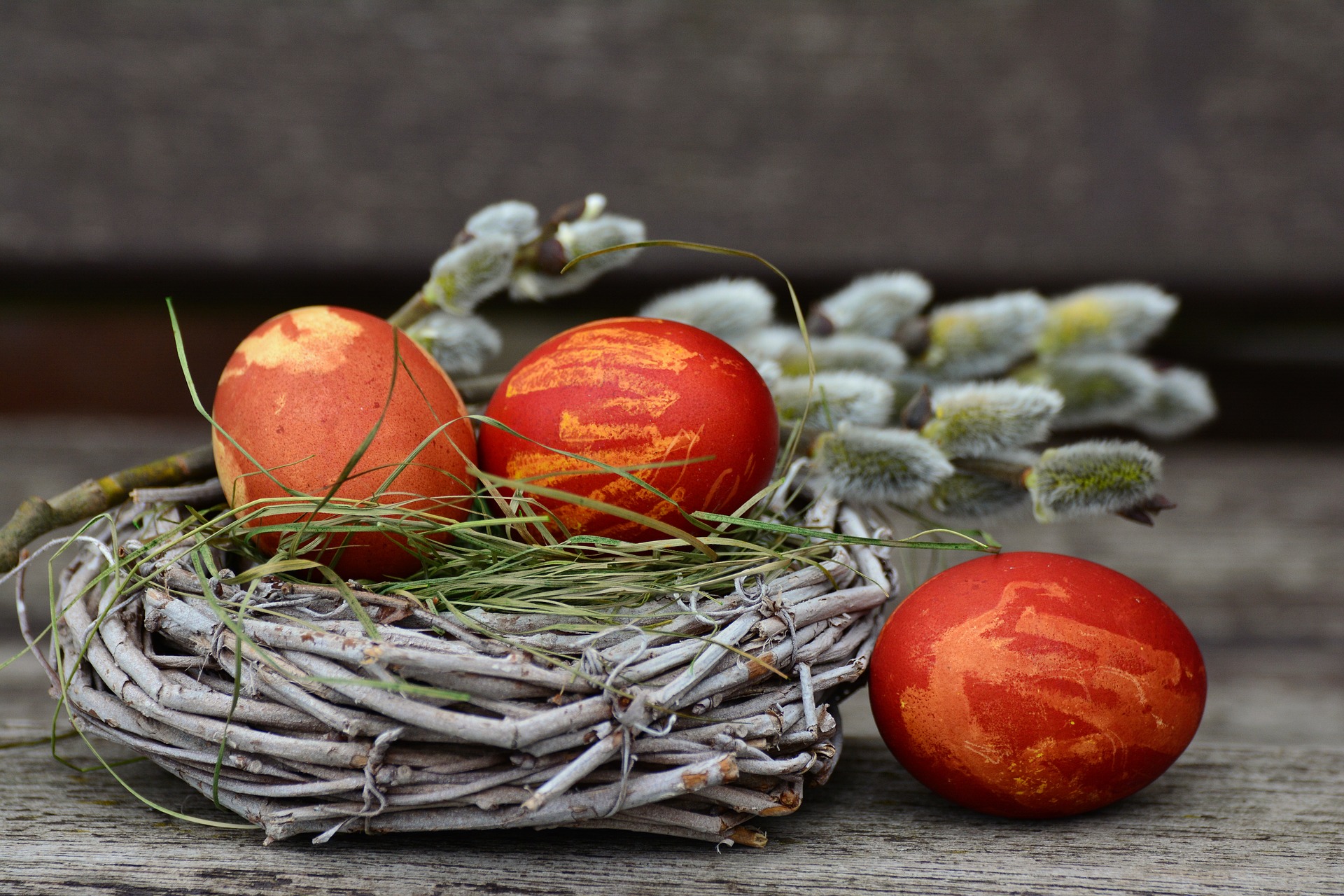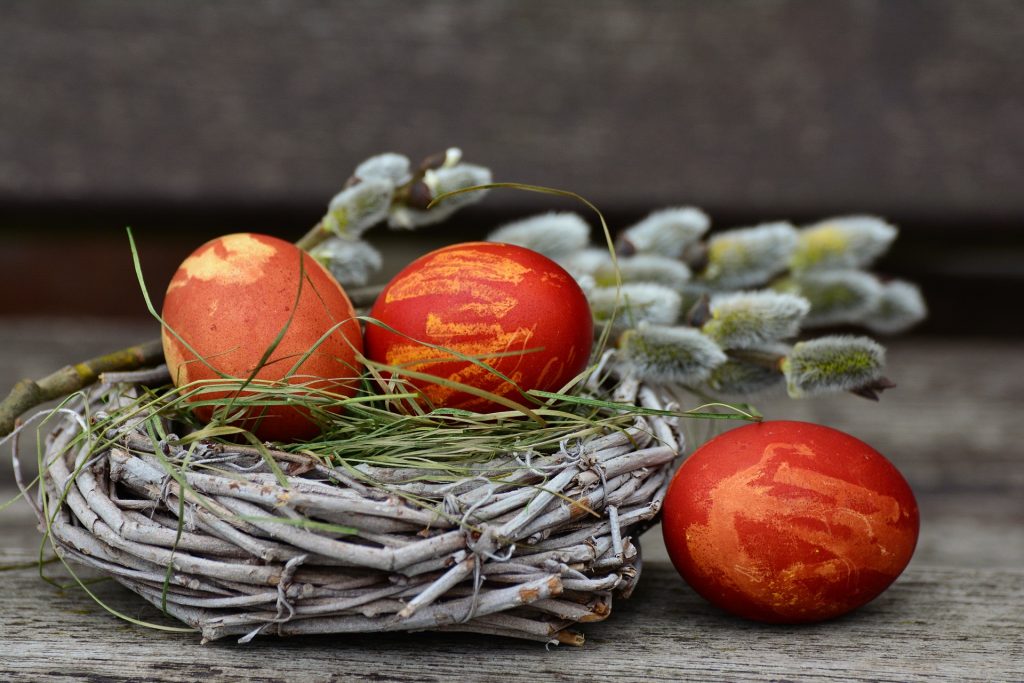 Making Easter eggs is a great form of entertainment and a great way to spend time with your partner or with your kids and get them involved in making Easter decorations.
Today we are presenting ways how you can make colorful Easter eggs without leaving home. You will not need a visit to the store – just take what you have on hand. What is important, you can use chicken eggs or their wooden or styrofoam substitutes.
Easter eggs made of string or mouline
Do you appreciate natural decorations that look very elegant? All you need is an egg, string, hot glue and scissors. Just gradually apply glue to the surface of the egg and then wrap it tightly with string. Finally, you can decorate them with a piece of lace or an old curtain. These string Easter eggs will go beautifully with green branches or moss.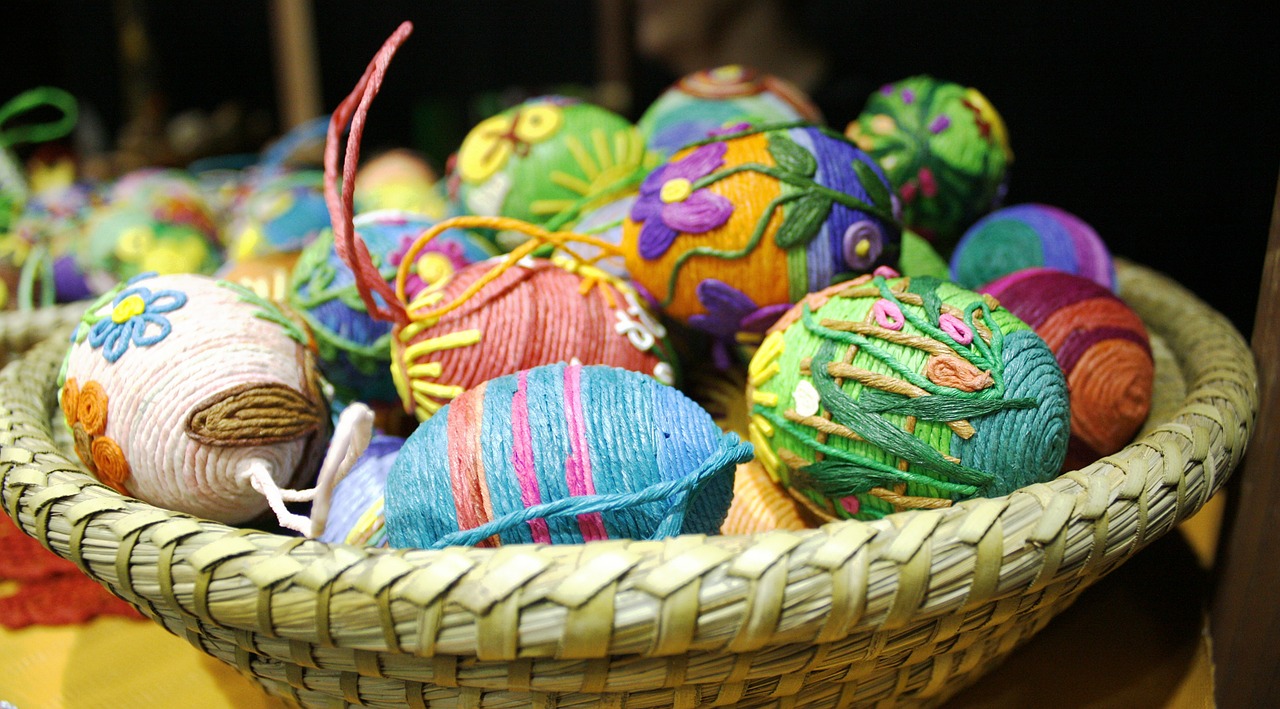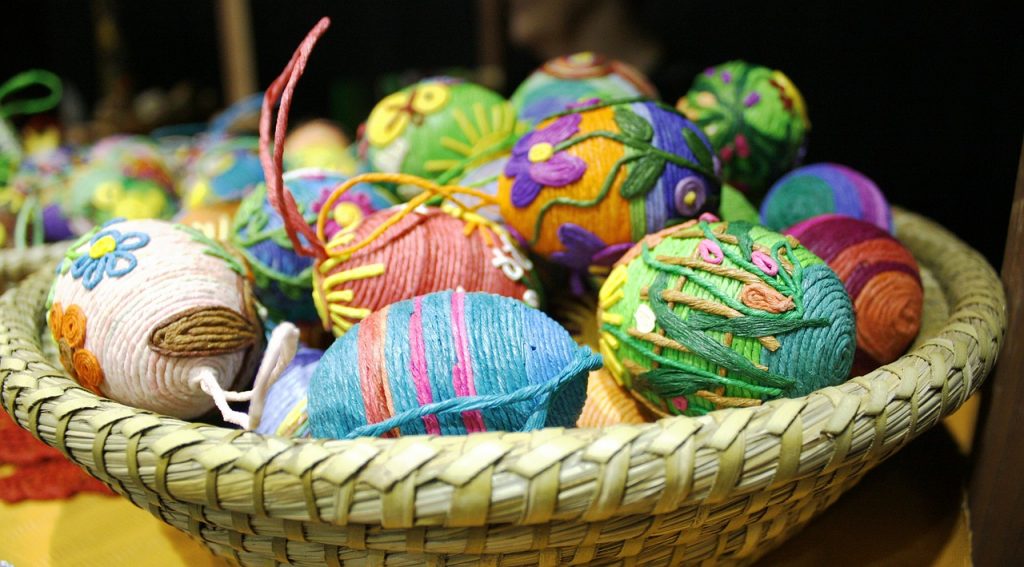 Exactly the same technique applies to mouline, which allows you to create Easter eggs literally in all the colors of the rainbow. Easter eggs made of mouliné look fresh and cheerful and bring back the awaited spring.
Wrap an egg in ribbon
At home we often have various ribbons and ribbons. With little effort we can use them to make shiny and colorful Easter eggs. There are two ways to do this.
>> Read also: Easter decorations for the table – suggestions
One of them is to wrap the egg with a ribbon, as we did with string and mouliné, while the other is already a bit more sophisticated decoration. To make it you will need styrofoam eggs. Why? Ribbons divided into short strips attach (vertically) with pins at both ends of the egg.
Optionally, you can wrap the same piece of ribbon vertically, but here you need to control the effect all the time, so that nothing slips. You can also put a decorative bow on top.
Easter eggs decorated with quilling method
Under this strange sounding name is hidden simply a method of decorating by means of folded narrow strips of paper. Such an Easter egg looks very impressive, and its making seems to be very complicated. But it is not – even children can manage it.
Just prepare the eggs, cut paper in one or more colors and glue. Simply roll up each strip (for example on a toothpick or hairpin) and glue it to the surface of the egg until every space is filled. Such Easter eggs do not need additional decorations.
Colored Easter eggs – naturally colored
We don't have to buy special dye in the store to enjoy Easter eggs in different colors. We can use natural dyes, preparing decoctions of various food products.
For example, blue can be obtained from red cabbage, yellow from turmeric and vinegar, pink from beets and vinegar, red, maroon and brown from onion skins, green from spinach and orange from chilli.
Remember that the longer your eggs are in such a broth, the more intense their color will become. Of course, eggs in white shells will dye better.
Easter eggs can also be painted with paints or even markers. No special artistic skills are needed for this. Yes, you can try to create fancy, precise patterns, but dots, fine lines or a small flower will look just as interesting.
You can also decorate the eggs in the children's version, using stickers, so beloved by the little ones. No doubt they will appreciate the fact that they can make beautiful Easter eggs by themselves.