Spring is a perfect moment to change the interior of our home. Warmer days and the first strong sun rays make us want to let more air and nature into our home. We usually buy new accessories such as cushions, vases or candlesticks. Put colorful flowers on tables, dressers and windowsills. Change your curtains for lighter ones. Or maybe this year you'll decide to change the interior of your home with striking wallpapers with nature motifs?
Why use wallpapers with nature motifs?
Wallpaper, as a decorative element, have always accompanied us. Once fashionable, patterned, overwhelming wallpaper decorated most Polish apartments. Currently wallpapers are back in favor and more and more often they decorate our walls. They are made of durable materials, on interlining, with a special fiber resembling fabric. Such wallpapers can be easily cleaned, without having to worry about damaging them. Today's wallpaper proposals are an interesting idea for an effective and fast renewal of the appearance of the living room, bedroom or children's room. Nature motifs – plants, flowers, trees, lakes, waterfalls, orchards, forests, etc. will add an original character to the room. In addition, all floral and nature motifs have a beneficial effect on human psyche – the color green calms and relaxes. Not without reason, for example, in hospitals we have walls in the green color. Wallpapers with elements of nature for several seasons are popular because of the decorative and aesthetic values. Who wouldn't want to wake up with a view of a beautiful garden or a forest path?
What you can find in the offer of wallpapers with nature motifs
Wallpapers with large, decorative motifs of leaves, twigs, plants, jungles, etc;
wallpapers with floral motifs – single flowers, compositions of floral patterns, large flowers and small flowers forming a uniform pattern across the surface;
wallpapers with animal mot ifs – birds, cats, fish, dragonflies, zebra, tiger, etc;
wallpaper with a view (forest, waterfall, meadow).
Is wallpaper with a nature theme suitable for any room?
Wallpaper with plant and animal motifs is a very decorative element of any interior styling. By decorators is often recommended to cover such expressive wallpaper only one wall in the room, which plays a central role in the living room or bedroom. Such a procedure causes that the room is not overwhelmed by an excess of patterns and colors, and gains, thanks to such a decoration, an interesting character. Fancy painted monstera leaves will be a beautiful accent behind a large sofa in the living room, or decorate the wall on which the TV is installed. The motif of birds of paradise will become a beautiful and moody bedroom decoration. Small, funny, colorful cats can become part of the children's world in their room. Thanks to wallpapers, we can also separate a "natural" corner for work or rest. We do not have to put wallpaper on the entire height of the wall, and wallpaper only its fragment, for example, part of the wall above the desk. Thanks to this simple procedure we will create an original part of the room and a separate, private space. The same procedure can be used in the children's room. Put a distinctive and colorful wallpaper in your child's favorite pattern (cats, dogs, balloons, leaves, etc.) below the shelves or bookshelves hanging on the wall. You will gain a play space separated from the whole, in which it will be easy for the child to control the order and toys.
What accessories to use with patterned wallpaper?
Wallpapers with a nature theme will successfully fit into any interior. However, remember to be careful with other elements of the room. Opt for monochromatic sofas and carpets in subdued colors, which will become a perfect background for expressive wallpaper. Nature patterns look best on their own, they do not need competition. A few uniform vases, a simple lamp or a minimalist, white bookcase will suffice. A small room lined with wallpaper in large flowers will become too bright and will tire our eyes. For very small rooms, if we want to use wallpaper for the whole room, choose a pattern in small flowers or leaves in subdued colors – black and white, white and gold, etc. Choose only the most necessary furniture and accessories. This will create a coherent, peaceful whole, which will allow for tranquility and relaxation.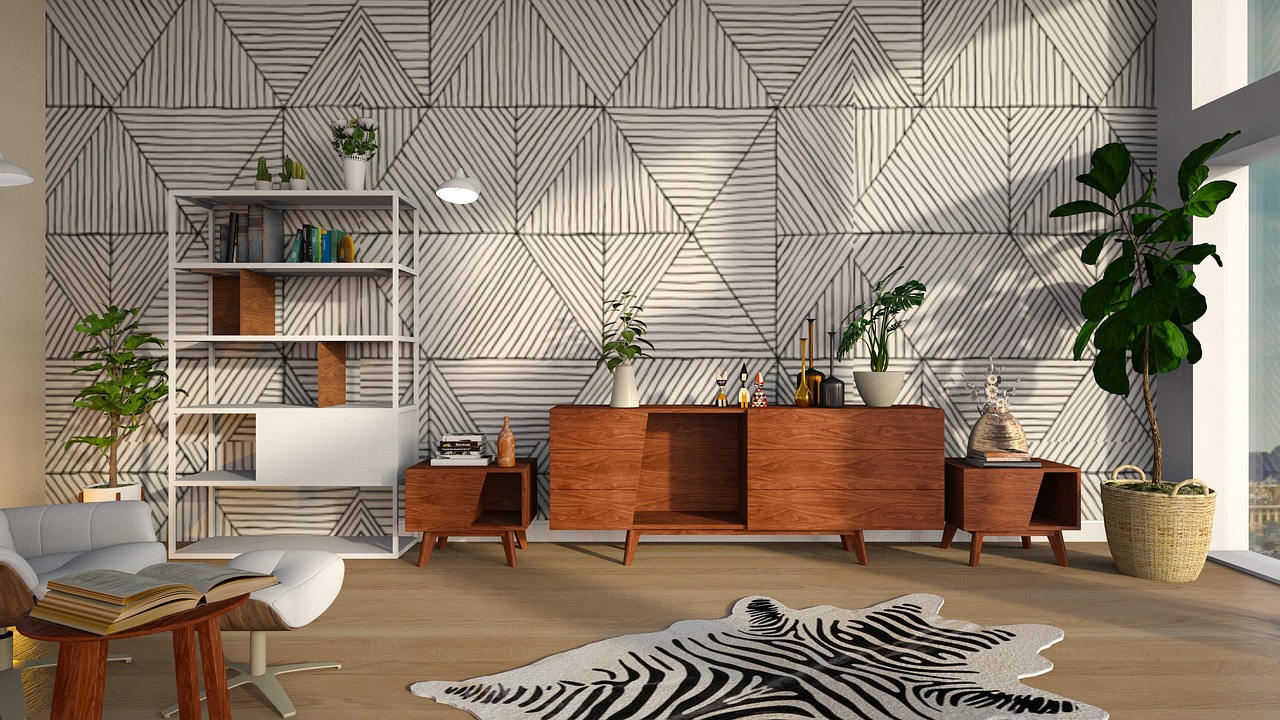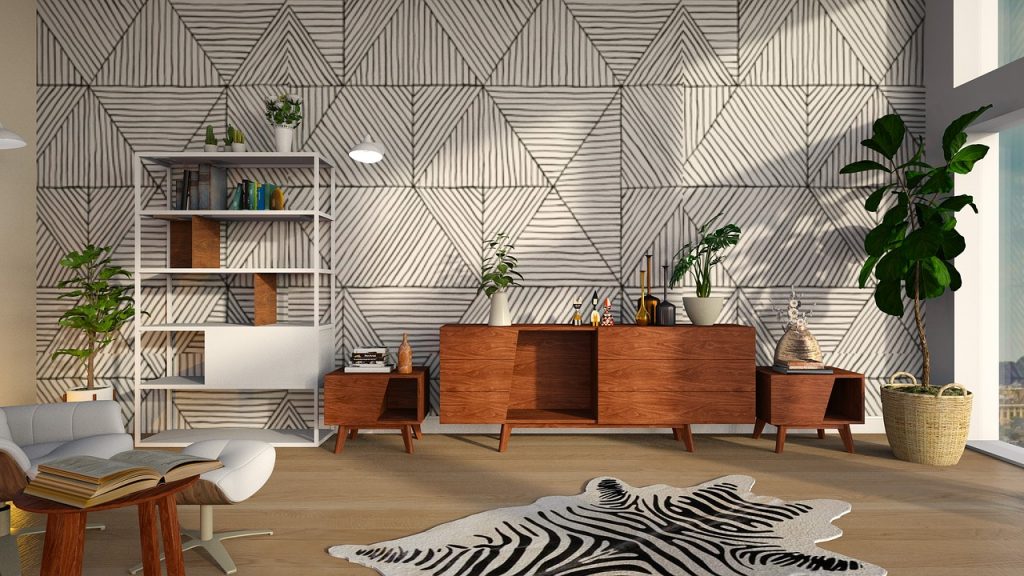 To what style of wallpapers with a theme of nature fit?
As we wrote above, the described wallpapers are characterized by clarity and are a decoration in themselves. They will look best in rooms decorated in a minimalist style, in which such colors as white or gray dominate. As accessories, wooden furniture with a simple structure, metal tables or sofas with a simple shape will present themselves nicely.
>> Read also: Exclusive wallpapers for the living room