If you want your kitchen to be fully organized, you have to rely on proper storage of things and products. No one likes it when open spices and dishes are all over the place and it's hard to find anything among them anyway. Good kitchen organisation is all about comfort and functionality
Organising the kitchen properly
Often the problem is not too many things, but poorly arranged furniture or appliances. Remember that modern equipment offers many possibilities. They hide a lot of accessories that improve the comfort of use. If you are planning a kitchen, what should you pay attention to? First of all, remember about the appropriate height of worktops, shelves and hanging cabinets. Everyone should have easy access to them
The main rule for organizing your kitchen is the work triangle. It includes storing, washing and preparing, and cooking and baking. So the fridge in your kitchen should be closest to the entrance so you can unpack your groceries easily. Immediately after storage, there is the washing and preparing area, meaning you should place shelves there for dry goods, dishes, pots and cutlery. The cooking and baking area should be located at the end. It contains the induction hob, microwave and oven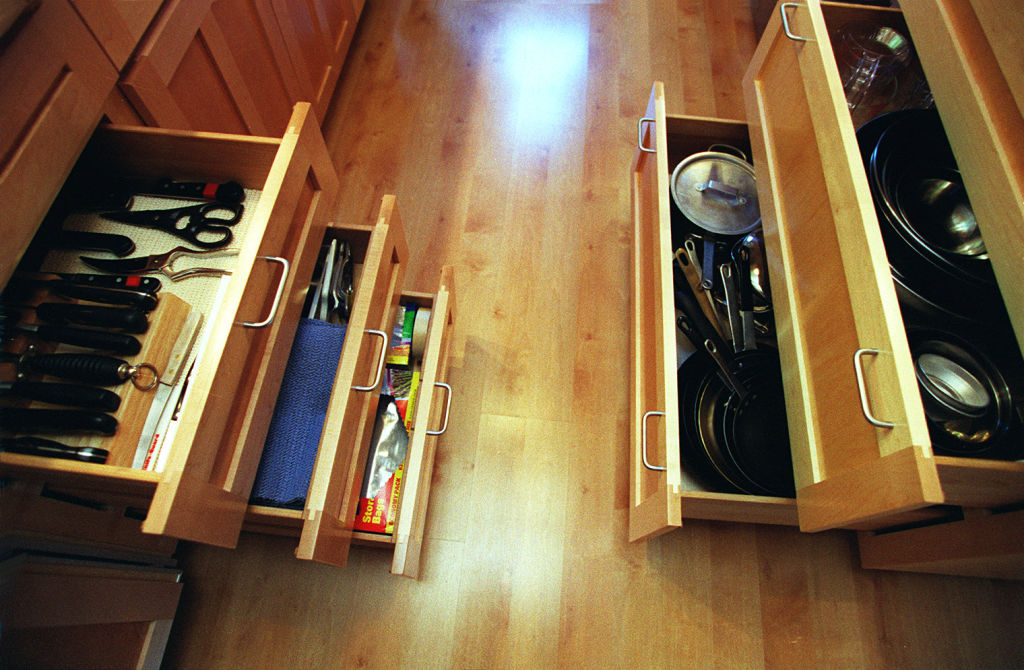 Kitchen cabinets – how do you store items in them?
Cabinets usually hold dishes, cutlery, cups, pots and foods that don't require cold temperatures. You can put commonly available cargo systems in them to make storing things more efficient. You will also find interior organizers in stores, which are highly recommended for smaller kitchens. Remember to keep things of similar purpose close to each other. Next to the kettle and dishwasher, place glasses, mugs and glasses. Under the sink, there's room for a basket and chemicals. The cabinets near the induction hob should hold dishes and spices. Corner shelves are usually the largest, so designate them for pots and pans
Drawers in the kitchen – how to organize them?
Easily accessible drawers should contain the things you use most often. This includes cutlery, wooden spatulas, knives and reusable bags. You can use the bottom drawers for things that are taken out once a month, such as a blender, mixer, or a spare set of cutlery. Special drawer organizers are a good solution. They work great for cutlery, where each item has its own place
If you store spices and food ingredients in drawers, remember the organizers. They'll make it easy for you to find each item and they won't spill inside. What's more, we recommend jars for spices. If you sign them at the top when you open a drawer, you'll know right away what's where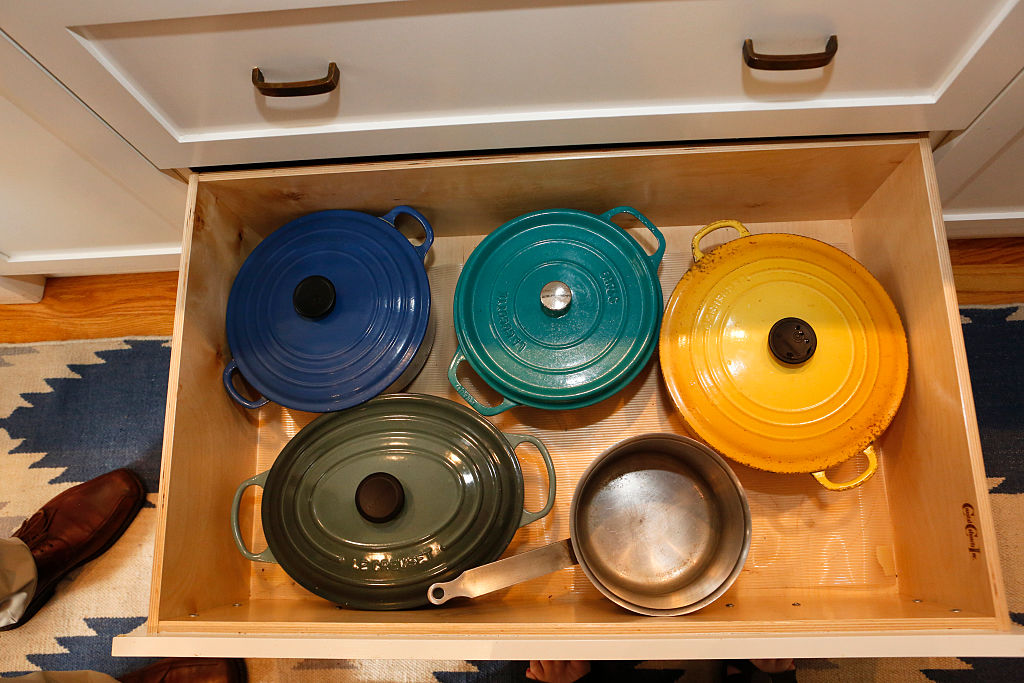 Open shelves in the kitchen – what to put there?
If you love open kitchens, you might be tempted to install open shelves. Keep in mind that they should be tidy, as they are the first thing that catches the eye when someone visits your kitchen. If you want them to look effective, put clear glass jars filled with dry products on them. We're talking about pasta, cereal, dried vegetables or spices. This is also an easily accessible space, so it's perfect for everyday products like coffee, tea or sugar. Open shelves should not be mounted over induction hobs, gas stoves and countertops. Unfortunately, it sometimes happens that there are a lot of things standing on them, and they can fall unexpectedly
Groceries – how do you store them?
Storing groceries is also quite a tricky issue. Each of us wants them to stay fresh as long as possible and not expire. Flour, groats, salt and sugar should be stored in tightly closed containers. This way they will not lose their aroma, but also you will protect them from moths and moisture. Containers made of glass or thick plastic will work best
See also: Methods of storing bread, which will prolong its freshness
Coffee and tea should be stored in tightly closed containers, which do not let light through. This will protect them from the negative effects of sunlight and oxygen. Vegetables and fruits, on the other hand, should be stored in a shady place with access to air. This can be a fruit basket or, in the case of starchy vegetables, a shady shelf. In the refrigerator, on the other hand, arrange things according to their expiration dates. The shorter the expiration date, the closer you need to keep an eye on them at all times. This makes you more likely to reach for them